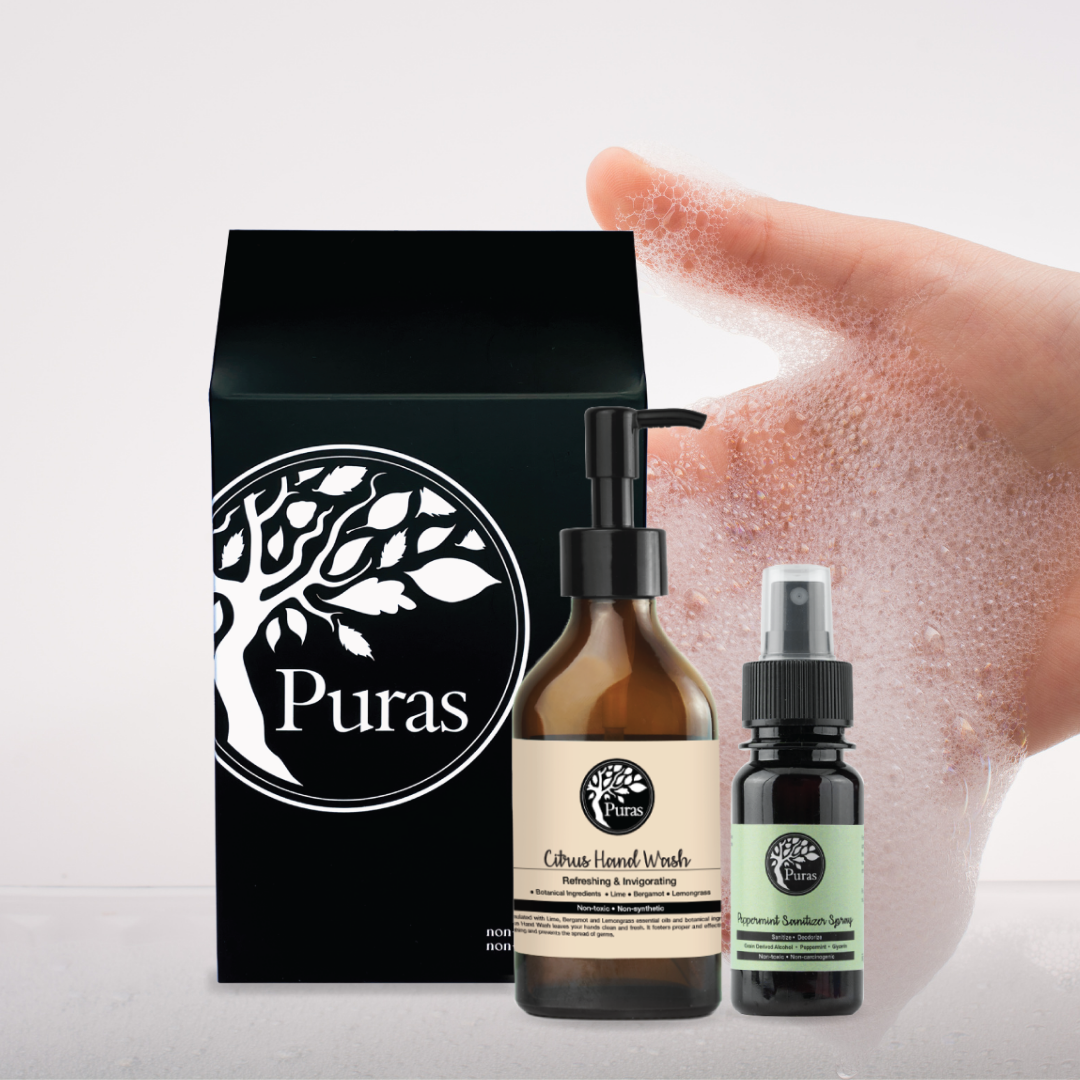 Puras Sanitizing Twin Pack (Small)
Start your natural healing journey with Puras' non-carcinogenic and non-toxic essential oils and natural healing products.

Citrus Hand Wash 120ml
INGREDIENTS: Aqua, Sodium Cocoyl Alaninate, Decyl Glucoside, Cocamidropropyl, Betaine, Lauroyl Methyl Glucamide, Mythyl Ester Sulphonate, Glyceryl Oleate, Aloe Vera, Sodium Benzoate, Potassium Sorbate, citric Acid, Acetic Acid, Citrus hystrix (Lime), Citrus bergamia (Bergamot), Cymbopogan flexuosus (Lemongrass) essential oils.

Description: Formulated with Lime, Bergamot and Lemongrass essential oils, Citrus Hand Wash leaves your hands clean and fresh. It fosters proper and effective hand washing and prevents the spread of germs.

Product use: Pump a small amount on to wet hands. Lather gently and spread on hands, nails and in between fingers. Rinse well with water.

Peppermint Sanitizer Spray 55ml
INGREDIENTS: Alcohol Denat. (grain derived alcohol), Aqua, Glycerin, Mentha piperita (Peppermint) essential oil.

Description: Formulated with blends of natural essential oils, the Peppermint Sanitizer Spray leaves your hands sanitized and refreshed at all times.

For external use only: Spray on hands to sanitize. Avoid contact with eyes.
NOTE: The sale of this item will not be counted towards the PURAS Miniature Set (free gift).